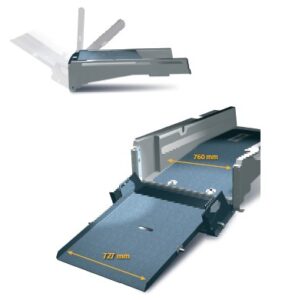 Innovative & Comfortable
Developed by our sister company API, the patented Flexi Ramp system offers the most innovative solution to your lowered floor requirement and sets new levels of comfort for your wheelchair passenger!
Provides More Space & Functional Use
As the ramp is fully foldable it allows more space and movement inside your vehicle. This means that when the ramp is stowed flat you can easily utilise all of your luggage compartment without any obstructions when the ramp is stowed flat. You can also unfold the ramp, when needed, to create ample space for a wheelchair user. There will also be a restraint system fitted into your vehicle to ensure the secure transport of the wheelchair users.
Easy to Access
The Flexi Ramp is specially configured to offer a low ramp gradient which allows the least possible effort required to push the wheelchair users into the vehicle. To make the process even easier could also select an optional powered winch to pull the wheelchair into the back of your vehicle. Please note that this option is dependent on your vehicle so please contact us for some friendly advice.
Download: Alfred Bekker Flexi Ramp Brochure
Lowered floor solution
Fully foldable ramp
Ramp can be stowed flat
Allows more luggage space
Low ramp gradient
Available on a range of vehicles, please see the "Compatible Vehicles" tab
The Flexi Ramp is compatible with the following vehicles:
Citroen Berlingo Euro 5
Citroen Berlingo Euro 6 – from September 2015
Peugeot Partner Euro 5
Peugeot Partner Euro 5 & Euro 6 – from September 2015
Ford Tourneo Connect
Ford Tourneo Connect Grand
VW Caddy
VW Caddy Maxi
All these vehicles have European Community Whole Vehicle Type Approval (ECWVTA). Please click here for more information on ECWVTA.